CROSSES OF LIGHT IN GERMANY

"It is calming - like a protection"
About a year ago a Turkish family living in Germany were given a huge wooden cross as a gift. Shortly afterwards, crosses of light began appearing in the windows of their flat. The Isatabas family, faithful Aramaic Christians, have lived in Germany for 15 years and own a Turkish restaurant in Aschaffenburg.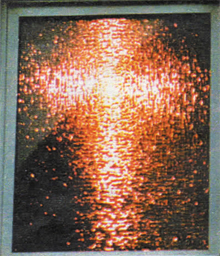 Mrs Isatabas, interviewed by Andrea Bistrich for Share International, said: "I first discovered the cross just before Christmas 1997. I had been out doing some shopping and was waiting at the traffic light. The light was on in our flat, and the restaurant was also lit up. You automatically look there. Suddenly you notice the cross. You know, it's exactly the Christian cross which is a symbol of our faith in Him. I instantly went into our flat to check. This happened just before Christmas 1997."

She has no doubt it is a miracle. "Now, when I have problems, I pray," she said. Problems include scepticism from the Church ("Not at all interested") and neighbours. "Many of them are laughing at us," said Mrs Isatabas, "they don't believe in it. But the fact is: we have a cross of light. What can we do if one day a cross appears in our window? But when you tell them this is a miracle from God they all say: You're mad! We've had the window glass checked by a glazier's shop and they told us the cross is not caused by the glass. They said that is impossible."

If she had a choice, would she keep it? "Definitely yes," she said. "It is calming, like a protection. It gives you hope."

Source: Share International

Editorial note
from: Share International September 1998

Reprinted courtesy of © Share International
---