---
Angelic figure appears on photograph

While on a visit to Rome, Andy Key, a retired English policeman, took a
photograph of the sunlight streaming through a window at Saint Peter's Basilica. When he and his wife later downloaded their photographs onto their computer, they noticed an unusual image on the Vatican photo: an angel hovering above the heads of other visitors in the church. more ...

Source: The Daily Mail, UK


• USA: Most Americans believe in angels
• USA: Woman gives money away on bus


---
Fairground 'angel'

On Friday 20 October 2006, local resident Catherine Austin and her sons visited the South Carolina State Fair in Columbia, USA, and took digital photographs of the night-time view from the top of the ferris wheel. At the time they noticed nothing unusual, but once home they found on one of the photographs a brightwinged figure hovering in the dark night sky. more ...
Sources: www.wltx.com, USA
---
Talking with Angels by Gitta Mallasz

Talking with Angels is the true story of four friends living in Hungary who, in the midst of World War II, received teachings from Beings they called Angels. Living in a small village outside Budapest, Gitta Mallasz and her three Jewish companions, Lili, Hanna and Hanna's husband Joseph, had been deeply disturbed by the increasing numbers of arrests. The period was one of political tension and terror as the Nazis swept across Hungary, capturing and deporting Jews. more ...
Source: Share International
---

Ohio boy believes angels are watching

Caleb Elkins of Mansfield, Ohio, USA, is believed to have been visited by angels while receiving care in hospital. In July 2003, Caleb was playing at his family home when he fell and suffered a serious head injury. Hospital tests revealed bleeding in his brain, and during the subsequent surgery a damaged artery was repaired and a metal plate placed in Caleb's head. more ...

Source: www.mansfieldnewsjournal.com

• USA: Terminally ill boy saw angels


---
Miracles reported in small Kentucky town
A quiet spot near Springfield, Kentucky, has been in the news intermittently for the past 10 years. Some residents claim miracles are occurring in an area known as Valley Hill. Hazel Spalding, a local resident, has no doubt that the place holds special powers. "I had my rosary in my hand and it turned gold," she said. "I smelled roses but there was no rose bush." more ...

Source: Wave 3 Television, USA

• India: Apparition at Sufi saint's shrine
• France: Helping hand in Paris


---
A story of miraculous events

The building of the Christ's church in Spata, a village 27 kilometers outside Athens, Greece, is a story of miraculous events. As early as the 1920s, years before the church was built, people walking by its current site would experience unusual energy and many reported supernatural phenomena. Most miracles, however, occurred after a young and destitute refugee from Asia Minor, Mrs Eleni Danielidou, born Gavrielidou, came to live in the area. more ...
Source: Manolis Melinos: The Christ in Spata
---
Healing Buddha

Zeng Zuokang, a retired teacher living in Taiwan, found a beautiful statue of the Buddha in a furniture auction store in 1989 and took it home to adorn his livingroom. In 1992 Dr Yutang Lin visited Mr Zuokang's home, saw the statue and offered to consecrate it, which he duly did. On the third day after the consecration, in the early morning while he was still in bed, Zeng Zuokang saw an image of the healing Buddha which appeared gigantic and golden. more ...
Source: www.yogichen.org
---

'Angels' in vogue

The regional Dutch newspaper Gooi en Eemlander recently devoted an entire page to the topic of angels. "Angels announced the birth of Jesus Christ 2,000 years ago. But angels aren't only around at Christmas. They can be found throughout the ages and in all religions. In the last 10 to 20 years there has been a real surge [in angel reports]."… more ...

Source: Gooi en Eemlander, the Netherlands
---

"Jesus sightings sweep America!" proclaims US tabloid

A cover story in the US tabloid Weekly World News, 'Jesus sightings sweep America!', describes "amazing eyewitness accounts of miraculous encounters with Christ," and asks the question: "Are new Jesus sightings a sign of the Second Coming?" The article says that since 1 January 1999, over 23,000 people worldwide have reported seeing Jesus, and that, as the year 2000 approaches, the number of sightings has been increasingly exponentially. more ...

Source: Weekly World News, USA

• Sweden: Stunt rider


---
Love without end
Glenda Green is an internationally recognized portrait painter and art historian. In 1989, her husband had a dream that Glenda was to paint a portrait of Jesus Christ. The possibility intrigued her, but it took nearly two years before she decided to undertake such a painting. After months of study, research, and contemplation, she felt frustrated as to how to proceed. She prayed in her studio for guidance. Glenda describes what happened next: "At that moment, a presence entered the room unlike any I've ever experienced ... more ...
Source: Share International
---
Encounters with angels

Emma Heathcote, a 22-year-old graduate of theology from Birmingham University, UK, is researching angel encounters and hopes to show that people of all religions, and those of none, are having the same experiences. After placing advertisements in newspapers and religious magazines requesting accounts of 'angel experiences', she has collected a substantial number of testimonies. more ...

Source: Share International

• Cameroon: Jesus appears to young woman
• USA: Rabbi's wife visited by 'angel'
• USA: Young boy "touched by angel"


---
Miracle in the bronx
In New York's Bronx district, an extraordinary transformation is taking place among the gang communities of the city's most deprived ghettos. A key player in this remarkable change is Hector Torres, a 42-year-old brought up in New York by Puerto Rican parents. In 1992 he experienced a life-changing event. Despite a secure family, Torres had turned to gang life, at 15 years of age becoming the president of a Latino outfit called 'The Bachelors'. Expelled from several schools, he managed to get his diploma and later a grant to attend college. more ...
Source: Share International
---
The Second Coming, UFOs, and the future of humanity

A young Italian man, Giorgio Bongiovanni, says that in 1989 he had many miraculous contacts with the Virgin Mary and, since that time, with Jesus. Both Mary and Jesus have given him information regarding the secrets of Fatima*, as well as the Second Coming of Christ, contact with UFOs, and other topics. In addition, Bongiovanni daily experiences stigmata - unexplained bleeding from his hands, feet, forehead, and chest, mirroring the wounds on the crucified body of Jesus. Giorgio travels the globe presenting his message. He has met with Queen Sophia of Spain, Mikhail Gorbachev and other top officials in Russia, and has spoken at the United Nations. more ...
Source: Share International
---
Korean leader's life saved by Christ?
In a front-page interview in the Japanese edition of Newsweek, the newly elected South Korean President Kim Dae Jung discusses his extraordinary life as an indefatigable crusader for democracy. Since the 1940s, Kim has been persecuted, jailed, exiled, hounded, and nearly killed a number of times because of his political activities. One particularly notable incident took place in 1973. Kim was kidnapped from a hotel room in Tokyo in the middle of the day by six men ... more ...

Source: Newsweek

• USA: Costumed angels give out money


---

Wisdom from a tramp

On 12 November 1997, in Durham Cathedral, England, a group of five preachers delivered their sermons hoping to win "Preacher of the Year Award". The theme of the talks was "holiness", and the unanimous winner was the Reverend Paul Walker, a vicar from Moorside, Sunderland. In his sermon he spoke of his unusual encounter with a tramp. more ...

Source: Share International

• USA: 'Angel picture' causes a stir
• UK: The mysterious good Samaritan
• USA: Jesus appears in New Mexico


---

Homeless people's encounters with the Christ

The US tabloid newspaper The Sun reported on the experiences of several homeless people in the US who claimed to have had encounters with the Christ. Among the experiences reported: Alejandro Diaz, a 67-year-old man from Miami with cancer, had "lost his faith in God when doctors told him he had less than a month to live." One evening Diaz was searching through a restaurant dustbin for food when, he said, "a soft-spoken man tapped me on the shoulder." more ...

Sources: The Sun, UK
---

"Jews are discovering Jeshua is the Messiah"

Seventeen years ago, Batya Segal was struggling with her conscience when she was asked to typeset the New Testament in Hebrew as the first manuscript in her new job. Raised in the traditional ways of an orthodox Jewish family, she tried to typeset the text without reading it, but she couldn't: "I just was consumed with the figure of Jeshua." At one point she needed to make a decision for herself and she prayed to God to show her if Jesus was the true Messiah for her. That night she saw a vision of an angel from the Lord. more ...

Source: Omega, Evangelical Broadcasting Organization, The Netherlands

• USA: Deities appear to Native Americans


---

The man in white

Dutch television viewers watching a programme entitled Healing and Faith, made by the Evangelical Broadcasting company, were recently given the opportunity to hear eyewitness accounts of miraculous healings and of many places in the Middle East where "the man in white" is known. A documentary made in a slum area of Cairo provided evidence of numerous inexplicable, miracle cures, stating that they are on the increase. more ...

Source: Evangelical Broadcasting company, The Netherlands

• USA: Angel appearing to car drivers


---

Encounters with Angels

Angels are increasingly in the news, and were featured most recently in a UK television documentary, Entertaining Angels Unawares, shown by ITV Carlton on 19 December 1995, where the subject was treated in a sensitive and factual way. Since Biblical times, when angels heralded the birth of Jesus, angels have been seen by people all over the world. Now at the end of the 20th century, the programme claimed, there are more reported angel sightings than ever before. more ...


Source: Share International

• South Africa: People pray for angel's vision of peace


---
Weekly meetings with the Christ
On 15 February Kenyan nun, Sister Anna Hadija Ali, sponsored and supported by Monseignor Emmanuel Milingo, an African Bishop, held a press conference in Rome and spoke about her experience of meetings every Thursday since 1987 with Jesus Christ. European media have reported on this event, including Italian and French television, News of the World (UK) and Hello magazine (UK). more ...

Source: Share International

• USA: Did Jesus appear in New Haven, Connecticut?
• The Netherlands: Mysterious hitchhiker


---
A mysterious hitchhiker in New Zealand

New Zealand's Christian community is abuzz with reports of a mysterious hitchhiker who has been thumbing rides on the North Island. "The bloke they've picked up will say something like, 'did you know the Lord is coming back?' and that's the only thing the fellow says," reports journalist Brian Finn who's been investigating the incidents. more ...

Source: New Truth, New Zealand

• Sweden: Return of the Christ - Hitchhiker as Prophet


---
Did Jesus Christ come to Nairobi, Kenya?

On 11 June this year, a man suddenly appeared before a vast crowd in
Nairobi, Kenya, gathered to witness the miracle healings of Kenyan spiritual
healer, Mary Akatsa. Instantly recognizing the tall, white-robed figure as
"Jesus Christ", the crowds fell down overcome with emotion. The editor of
the Swahili edition of the Kenya Times, Job Mutungi, witnessed the event ... more ...
Source: Kenya Times
---

In recent years there has been an upsurge in reports about encounters, visions and photographs of the Christ and angels. There seems to be a wide array of experiences: Apparitions of Jesus or angels to a hitchhiker which is disappearing from driving cars after asking "Did you know that the Christ is in the world?" Also there are reports about help from strangers in emergency situations, which then disappear without a trace. Increasingly, people are discovering apparitions on photographs.

A cover story in the US tabloid Weekly World News, 'Jesus sightings sweep America!', describes "amazing eyewitness accounts of miraculous
encounters with Christ," and asks the question: "Are new Jesus sightings a
sign of the Second Coming?"

The article says that just from January till October 1999, over 23,000 people worldwide have reported seeing Jesus. "There is no doubt in my mind that the person that witnesses are seeing really is Jesus," said Father Franco Tomassi of Rome, who has investigated several hundred of the cases for the Vatican. ...

Christ & Angel Encounters-
Videos

From the thousands of reports about encounters the one on the outskirts of Nairobi, Kenya, on 11 June 1988 is probably the best documented. In the middle of a prayer meeting of 6,000 Christians which was lead by the healer Mary Akatsa suddenly "out of nowhere" there appeared a figure dressed in white. Job Mutungi, editor of the Swahili edition of the Kenya Times, witnessed the event and wrote the article with the headline "Did Jesus Christ come to Nairobi?":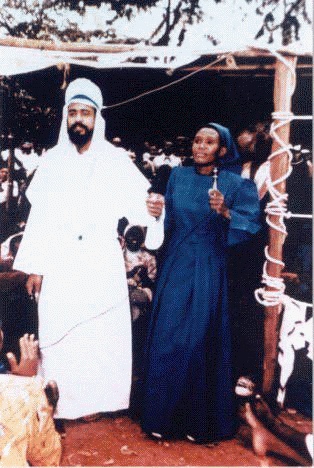 "The tall figure of a barefooted, white-robed and bearded man appeared from nowhere and stood in the middle of the crowd ... I looked at my watch. It was 4.15 pm ... Strange, sporadic light wafted on top of his turbaned head, his feet and his entire body."

"The man whispered something to Akatsa for about two minutes. She later informed the crowd that the strange man would address them. In clear Swahili, which had no traces of accent, the strange man announced that the people of Kenya were blessed, especially those who had gathered at the venue that afternoon."

'We are nearing the time for the reign of heaven. But before that I shall come back and bring a bucketful of blessings for all of you'", so the wording of the Kenya Times.

A photographer was also present and took several photos of the man who took up the offer of Mr Gurnam Singh to give him a lift. Two minutes later upon reaching a bus terminus he asked him to stop the car as he wanted to alight and head for heaven. On getting out, he did not ascend. He walked a few paces beside the road and simply vanished into thin air. Several people who witnessed this were astonished by his mysterious disappearance.

In the following days the appearance was on the front pages of the world press and international television stations such as CNN and the BBC reported about it as the "Miracle of Nairobi".

Christ & Angel Encounters-
Links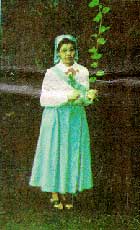 Sister Anna Ali

Amazing is the story of Sister Anna Hadija Ali, a nun from Kenya. She says that every week since 1987 she has had personal meetings with the Christ
including photos which have been taken.

Sister Anna was at a press conference in Rome on 15 February 1994 and provided detailed information and introduced a book, in which she claims that "Jesus Christ" appears to her every Thursday.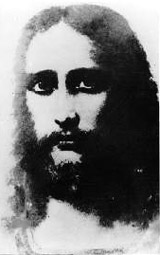 She passed two photographs around which she had taken in 1988. On one of the photos he is weeping tears of blood.

Prior to her meeting, Sister Anna's face becomes swollen and painful and the following day she weeps blood.

Her doctor remarked that this is an "absolutely inexplicable phenomenon from the scientific and human point of view".

He also commented on an "extraordinary aroma of freshness" she exudes during this process, which he concluded is the "perfume of the Christ".
Christ & Angel Encounters-
Books
The Reappearance of the Christ and the Masters of Wisdom
by: Benjamin Creme
Price: $ 16.00
Paperback: 287 pages
Publisher: Share International Foundation; 2nd Updated edition (June 1, 2007)
ISBN: 978-9071484322


Maitreya's Mission (Volume 3)
by: Benjamin Creme
Preis: $ 18.00
Paperback: 704 pages
Publisher: Share International Fdn; 3rd edition (July 1, 1997)
ISBN: 978-9071484155


Talking with Angels
by: Gitta Mallasz
Price: $ 16.50
Paperback: 474 pages
Daimon; 4th edition (April 1, 2006
ISBN: 978-3856307042


Love Without End: Jesus Speaks...
by: Glenda Green
Price: $ 13.52
Paperback: 365 pages
Publisher: Spiritis Publishing (December 1998)
ISBN 978-0966662313


Seeing Angels: True Contemporary Accounts of Hundreds of Angelic Experiences
by: Emma Heathcote-James
Price: $ 9.99
Paperback: 271 pages
Publisher: John Blake (August 1, 2002)
ISBN: 978-1904034155
Meetings With Angels
by: H. C. Moolenburgh
Price: $ 19.95
Publisher: C W Daniel (December 1994)
ISBN: 978-0846442530


On the eucharist, a divine appeal
by: Rev. Jude Mbukanma, O.P.
Preis: $ 11,95
M.E.T. Publishers Ltd., PO Box 188, Cross Junction,, Virginia, 22625, USA
Tel: +-540-888-3995, Fax: +-540-888-3779
E-mail: metpubl@visuallink.com
ISBN: 978 -3169548
The book contains messages that Sister Anna Ali received in personal encounters with Jesus.


Sacred Encounters With Jesus
von Gregory Scott Sparrow
Price: $ 12.95
Publisher: Thomas More Association (January 2003)
ISBN: 978-0883474983


Witness to His Return: Personal Encounters With Christ
by: Gregory Scott Sparrow, Mark A. Thurston
Hardcover: 240 pages
Publisher: Are Pr; 1st edition (April 1992)
ISBN: 978-0876042892


Extraordinary Times, Extraordinary Beings: Experiences of an American Diplomat with Maitreya and the Masters of Wisdom
by: Wayne S. Peterson
Price: $ 16.95
Paperback: 190 pages
Publisher: Hampton Roads Publishing (March 1, 2003)
ISBN: 978-1571743763