Miracle well in Malaysia

A disused, rubbish-filled well in Pasir Putih, Malaysia, has been miraculously transformed into a source of crystal-clear, sweet-smelling water with healing properties.

Dug by the council in 1980 near the local fish market, the well was abandoned after it was fouled by rubbish and became unfit for use. On 8 November 2007, however, a white light shone from the well, and residents found that the water had become crystal clear and was exuding a sweet fragrance.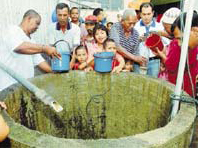 Market trader Basri Hashim said he was performing the Subuh (dawn) prayers at a nearby surau (Muslim prayer room) when the congregation smelt the fragrance coming from the well. "After completing the prayers, many heard the sound of water gushing in the well. We went and saw that the water was clean and clear," he said.

Since then hundred of people have travelled long distances to visit the well and drink the water, claimed to have healing powers. Some even bring buckets to fill so they can bathe in the water. Journalists visiting a few days after the story broke reported that the water was "clear with a slight, sweet scent". Pasir Putih district health officers have taken samples for tests.

"In the past, water from the well was reddish in colour and had a foul smell. Many would not even go near the well," said fishmonger Baharum Mamat. "Now, you can even drink it straight from the well without boiling the water first."

(Source: New Straits Times, Malaysia) - see website: http://www.hotspotsz.com/Miracle_water_from_murky_well_(Article-725).html

Anmerkung des Herausgebers
from: Share International, December 2007
---

Healing springs in Switzerland

Reports appeared during August and September 2006 of the discovery of healing springs in Switzerland.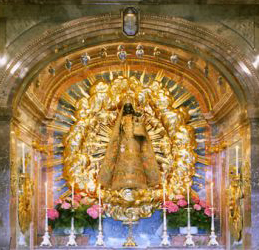 A local newspaper in Heiligkreuz, near Lucerne, carried the story of a spring at the home of a group of Franciscan nuns in Ingenbohl. The water was found to have curative powers when an old, sick cat drank from the spring and was immediately healed. Since then, local nun and health consultant Pauline Felder has noticed astonishing benefits in people and animals who drink the water.

Local media also reported a healing spring at the Benedictine monastery at Einsiedeln, near Zurich. Long associated with miracle healings, the monastery has for centuries attracted pilgrims, who continue to visit its Black Madonna statue which is believed to have healing properties.

Two further healing springs were reported: a mountain spring in the Alps near Braunwald, eastern Switzerland; and a spring at Flüeli-Rauft, in the canton of Obwalden, central Switzerland. This was the birthplace of Bruder Klaus, the 15th century hermit revered as the "father of Swiss neutrality".

(Source: Entlebucher Anzeiger, GlücksPost, www.stacher.ch, Switzerland)

Anmerkung des Herausgebers
from: Share International, December 2006
---

"God's Water"


Water has been flowing from a "mystery tree" in San Antonio, Texas, for about three months, despite drought conditions this summer. The water is cool and there is growing evidence that it has healing properties.

The water, described as "God's water" by Mrs Lucille Pope, spurts from the bark of a red oak tree in her garden. "What kind of mystery do I have where water comes out of a tree?"

The water-tree was discovered by Mrs Pope's son Lloyd and has now been investigated by the Texas Forest Service, local nurseries and the Edwards Aquifer Authority. So far, no one has come up with a satisfactory explanation as to why a red oak would have water spouting from its trunk in a dry period.

Mrs Pope says she just wants to know whether "it is a healing tree or blessed water". "That's God's water. Nobody knows but God," she says. She remembers that a visitor dabbed a few drops of the water on a spider bite and the swelling disappeared. She is beginning to believe that the "mystery tree" is, indeed, special and that the water has healing properties.

(Sources: Associated Press, CNN, USA)

Anmerkung des Herausgebers
from: Share International, September 2006
---

Miracle fountain discovered

A fountain of water with healing properties has been discovered in the Barangay New Pangasinan district of Koronadal City, Mindanao, southern Philippines. Lauro Daguro, a faith healer, discovered the healing fountain on 24 March 2005, the Thursday before Easter Sunday. He was walking with the help of a stick when he saw water coming up from the dry ground. "I became curious and drank from it," said Daguro, who suffers from arthritis. "I also put some water on my aching elbow and knee. Some moments later, I felt the pain gone. It's really a miracle."

Daguro said he did not understand how the fountain could exist, because ground water in the area can only be extracted after drilling deep into the ground. The miraculous fountain churns in water less than a foot from the surface. News of the healing fountain quickly spread throughout the largely impoverished region, and thousands of people have since visited the site.

Antonina Agustin, a woman in her 70s, suffered from severe back pain and found it difficult to walk. Her bent posture was like the letter 'C', she said. She visited the fountain and was rubbed with the wet soil. "After I was wiped with the water from the fountain, I can stand and walk straight. The pain has subsided," she said. Another woman said that the water had cured a five-year old child whose head was swollen.Daguro and several women who attend to the visiting crowds said they do not collect money from those who seek healing from the fountain, believing that if they did charge a fee, the healing powers of the water might disappear.
(Source: MindaNews, the Philippines) - see website: http://www.sunstar.com.ph

Anmerkung des Herausgebers
from: Share International, June 2005
---

Australian Lourdes

There have been reports from Australia of a healing spring in the Monaro region, near the Snowy Mountains south of Canberra. Cattle and sheep on
seven adjoining farms have been found to be extraordinarily healthy, fertile and long-lived. The water on these farms comes from a local spring. Despite extensive research since 1955, scientists have been unable to find a genetic reason why the animals live so long. Stock on other neighbouring farms without access to the spring water have normal life-spans.
(Source: Sydney Morning Herald, Australia)

Anmerkung des Herausgebers
from: Share International, June 2002
---

Miraculous water discovered in Chinese church

Miraculous water reportedly flowed from a cross on a church spire in Sanban village, near Guigang city in southwestern China. "The fluid was tasteless and did not flow every day," said the diocesan bishop, Joseph Meng Ziwen. On 7 October 2000, the day of the feast of Our Lady of the Rosary, a reddish-brown, water-like fluid began flowing from the base of the cross erected on the church spire.

The water was discovered by a parishioner who was drying herbs in front of the church property and found the herbs wet. The region had had no rain for months, and there is no water pipe on the church towers.

Father Simon Huang Qingeai, priest of a nearby parish, has led pilgrimages to the church, and witnessed the flowing fluid. He said the liquid flowed for about 20 days beginning on 7 October and for 20 more days after Epiphany on 6 January 2001.

A lay person took samples of the fluid for laboratory tests. An initial report stated that the fluid contained red and white blood cells. Father Huang said an elderly relative who suffered from stomach cancer claimed that the pain disappeared after he drank the fluid. News of the miraculous water has drawn thousands of people to the church.
(Source: UCA News, Thailand; The Leaven Newsletter, USA)

Anmerkung des Herausgebers
from: Share International, April 2001
---

Healing spring in Thailand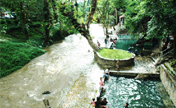 Up to 700 people a day have been visiting the Wang Kanai Temple in western Thailand to soak in the hot springs there because of reports that the waters have miraculous healing powers. The temple Abbot, Phra Sompong Putthasalow, said he discovered the water in a dream: "A man wearing all white told me to dig in front of the temple where I would find something that would benefit the people."

The monks discovered a hot spring after digging for about seven metres. A tank was built and when Abbot Phra Sompong brought his partially paralysed father for a series of baths, his condition vastly improved.

Since then many Thais have brought their ailing relatives and friends to the temple in Kanchanaburi province. The monks have had to build 55 tanks to cope with the crowd and are planning to build more.

According to the monks, more than 50 people have been cured of various ailments, including five paralysed people who now walk unaided. One
visitor, Mr Kwanruen Mahasengpachai, said: "I have been suffering from rheumatism for 18 years and I am not in pain any more. I have only been here twice for a soaking."
(Source: The Straits Times, USA)

Anmerkung des Herausgebers
from: Share International, April 2001
---

Healing well in the US

New Mexico - The sick visit El Santuario de Chimayo to scoop mud from a small pit, which is said to have miraculous curative powers.
(Source: Weekly World News, USA)
see website: www.elsantuariodechimayo.us
Anmerkung des Herausgebers
from: Share International, January/February 2001
---

Sacred Land Project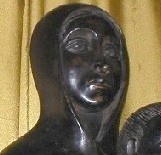 With the support of the Prince of Wales, leading environmental organizations and members of different faiths in Britain have jointly set up the Sacred Land Project to restore more than 2,000 sacred sites throughout Britain, among
them ancient pilgrimage routes, ritual wells and pre-Christian shrines. The inaugural ceremony was held at St Mary's church, Willesden, north-west London. The church - a centre of pilgrimage until the Reformation - has a Black Madonna, and annual pilgrimages still take place today to its well which is believed to have miraculous healing properties.
(Sources: Methodist Recover, The Tablet, UK)

Anmerkung des Herausgebers
from: Share International, July/August 1997
---

Water source cures drunkenness in Russian village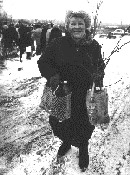 A water source that cures drunkenness has been discovered in a northern Russian village, Itar-Tass news agency reported. "Despairing wives are leading husbands on drinking binges to the mystical source," Tass said. "The rumour goes that some people have even managed to turn themselves into complete teetotallers."

The water source appeared recently at the site of an unused well that had not been blocked properly. "The water rose to the surface, acquiring anti-alcoholic properties," according to Tass.

Anmerkung des Herausgebers
from: Share International, July/August 1996
---

Wonderwater in China

Zhou Lianghua and his wife Li Guirong, a Chinese couple of over 80 years old, have discovered a "fountain of youth". According to their own statements they both feel 10 years younger since drinking water from the fountain in their courtyard. They report that they are now fit and no longer out of breath after walking up a mountain.

Since they have used the "fountain of youth", miracles have occurred. Husband Zhou says that previously he suffered extreme hairloss. Now he has a thick head of black hair. Also, his wife's grey hair has regained its black colour. Scientists now want to examine the "wonderwater".
(Source: Süddeutsche Zeitung, 28. July 1994)

Anmerkung des Herausgebers
from: Share International, November 1994
---

Russian healing well

During restoration work in one of 1,300 Russian churches, a miraculous healing well has been discovered. In the diocese of Kostroma, 300 kilometres from Moscow, the "saint water" is now being bottled and sold, for a minimal cost, to help finance the maintenance of the dilapidated buildings.
(Source: Euronews)

Anmerkung des Herausgebers from: Share International, August/September 1994


---

Nordenau healings investigated

A study conducted by Dr Hans Jürgen Steinbrück, a GP from Frankfurt/Main, found that 30 per cent of the visitors to the Grotto Brandholz in Nordenau were "totally healed" and 28 per cent reported "a clear improvement".

Dr Steinbrück conducted his study between September and December 1992 among 42 volunteers, most of whom had chronic diseases (50 per cent suffered from rheumatism, 11 per cent from psychiatric or neurological illnesses). The study was commissioned by Theo Tommes, the owner of the grotto, to investigate scientifically the phenomena of healings. It was carried out on a strictly medical basis by way of a clinical trial.

In most cases the actual visit to the grotto - ie the 'radiation' in the grotto - was claimed to be the cause of the healings. Only 40 per cent had a positive reaction following the drinking of the water alone. However, Dr Steinbrück found that what he called "total treatment" - ie the combination of both the radiation in the grotto and the drinking or applying of the water - brought about the most effective improvements.
from: Share International June 1993

---

"Magical" water found near Delhi



In Nadana village, about 150 km north of Delhi, India, water began gushing out of a deserted tubewell last September. Some local villagers who bathed in the water reported that the "medicinal" and "magical" qualities of the well cured their skin diseases. Word quickly spread, and now a constant stream of people visits the village daily to gain the benefits of the water.

A five-year-old polio victim was reportedly cured to a large extent after bathing there. Others report the curing of skin diseases. Most people who bathe in the water report physical improvements of some type. The owner of the well, Mr Mamraj, one of the village leaders, was reportedly offered a large sum of money from people who wished to buy the well. He rejected the proposal, saying he wanted to use the well for the people, not for making money.
from: Share International April 1993


---

Healing waters in the US

The healing waters of the oldest Mary Shrine in the United States drew 2,000 people to services on Easter Sunday. The spring at the National Shrine of Our Lady of Lourdes, on the grounds of Mount St. Mary's College in Emmitsburg, Maryland, has reportedly cured ailments from deafness to tuberculosis. The Virgin Mary appeared to one of the visionary children of Medjugorje during his visit to the Shrine in November 1990.
(Source: Baltimore Sun, USA)
from: Share International, July/August 1992


---